what's
for dinner?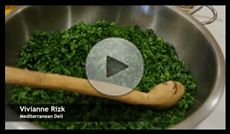 Lehigh Valley Live
Cooking 101:
Learn how to make Lebanese tabbouli
Vivianne Rizk, who moved from North Lebanon to Forks Township 30 years ago, demonstrates how to make tabbouli salad, a staple at the annual Lebanese Heritage Day festival. more...
Commendation
list


THE MORNING CALL
Forks Mediterranean Deli is a treasure of Middle Eastern fare
The restaurant also sells specialty foods in a grocer's section.
May 31, 2012|By Susan Gottshall,
Special to The Morning Call Forks Mediterranean Deli is a treasure of Middle Eastern fare, right in our own backyard. Not only does this deli serve up fine hummus and tabbouleh, it also offers Mediterranean specialty foods in its small grocer's section. Inside the stucco-style building with its red tile roof, the dining room is unremarkable — buttercup yellow walls, linoleum floor and about a dozen basic tables and booths. The well-stocked grocer's section and family photos from Lebanon provide the deli's character. Pickled turnips, aromatic spices, large jars of olive oil, bottles of rose water, tahini and more fill the grocer's shelves. more

LEHIGH VALLEY LIVE
By Kelly Huth | The Express-Times on January 25, 2014
"Forks Mediterranean Deli wowed us with their Mediterranean Vegetable -- a Mujadara recipe that dates to the age of the Phoenicians. The combination of rice, lentils and onions was complex but the toppings -- first-pressed olive oil from the family's grove in Lebanon and a homemade yogurt -- added layers of flavor."

EASTON PATCH
By Anthony Rando (Open Post) February 23, 2011
"An entire article could be devoted just to the rich history of , formerly Forks Produce. Suffice it to say that you won't find anything else like it in the Valley. Lebanese cuisine was entirely new to me when I walked into the deli, which is located next to the Town Center Plaza on Sullivan Trail. Stand-out features include the small seating area, with kitchen-type tables and chairs; an impressive selection of spices, oils, breads and other delicacies; and an expansive deli case with meats and cheeses and spreads, the likes of which I could only ever hope to accurately pronounce." more...